10 Best Pilates Reformer Machines In 2023 by Experts
The Ultimate Guide to Choosing the Best Reformer for Pilates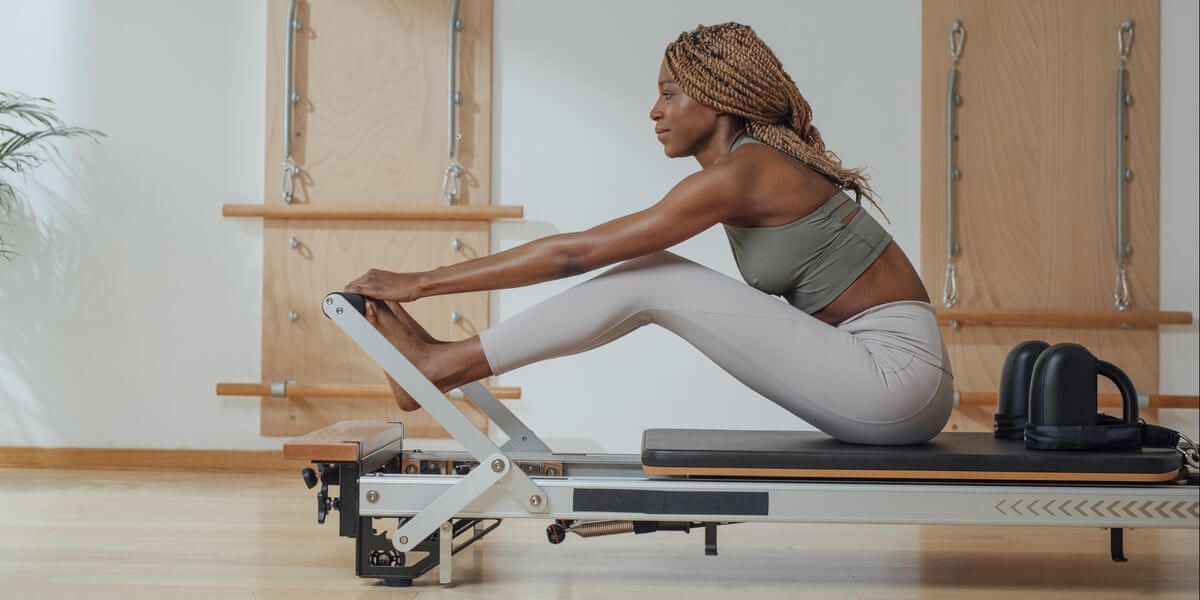 If you're a Pilates enthusiast or are looking to get into Pilates, you know that a reformer is an essential piece of equipment for your practice.
But with so many options on the market, how do you choose the right one for you?
This guide will walk you through the key features to consider when selecting a reformer, as well as some top picks to help you make an informed decision. Home workouts or advanced studio set ups; this guide covers it all.
But before we get into our top picks, it's important to understand the different types of reformers available.
There are traditional wooden reformers, which are the original design created by Joseph Pilates himself. There are also modern metal reformers, which often have additional features like adjustable footbars and resistance settings. Finally, there are portable reformers, which are lightweight and easy to move around, but may not have all the features of a traditional or modern reformer. Consider your needs and preferences when deciding which type of reformer is right for you.
Traditional wooden reformers are often favored by purists who appreciate the classic design and feel of the original equipment. They are also known for their durability and longevity. Modern metal reformers, on the other hand, offer more versatility and customization options. They often have adjustable footbars and resistance settings, allowing for a wider range of exercises and difficulty levels. Portable reformers are a great option for those who want to be able to easily move their equipment around, or for those with limited space. However, they may not have all the features of a traditional or modern reformer. Ultimately, the type of reformer you choose will depend on your individual needs and preferences.
So that's the top 10 according to the experts. Now lets take a deep dive into each of those picks, so you can be confident in your choice (remember if you still have questions, feel free to give us a call)!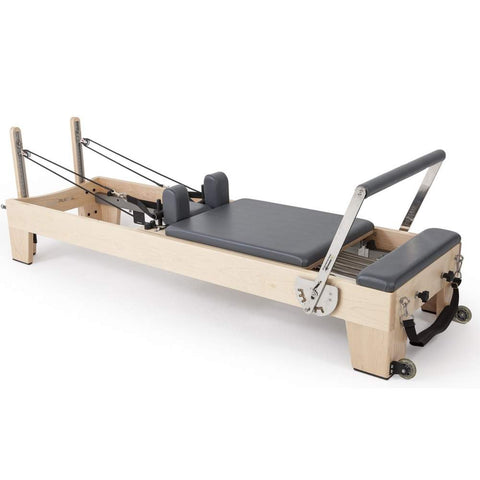 1
Best Studio Grade Home Reformer
Elina Pilates Elite Wood Reformer Machine
PROS
CONS

Top-quality maple construction.
Suitable for all skill levels
Suitable for all heights
Free Shipping
The Elina Pilates Elite Wood Reformer Machine boasts a range of impressive features and specifications that set it apart from other reformer machines in the market. Let's take a closer look at what makes this machine so special.
First and foremost, the solid wood construction of the Elite Wood Reformer Machine ensures stability and durability. The high-quality wood not only adds a touch of elegance to your Pilates space but also provides a sturdy foundation for your workouts. You can trust that this machine will withstand the test of time.
In terms of functionality, the Elite Wood Reformer Machine offers a smooth glide that allows for seamless transitions between exercises. The precision engineering ensures that every movement is fluid and controlled, allowing you to focus on perfecting your form and engaging the correct muscles.
Additionally, this reformer machine features adjustable resistance. Whether you're looking for a challenging workout or a gentle session, you can easily customize the resistance to suit your needs. This versatility makes the Elite Wood Reformer Machine suitable for users of all fitness levels, from beginners to advanced practitioners.
Dimensions
Length: 100.39 in | 255 cm
Width: 29.92 in | 76 cm
Height: 15.75 in | 40 cm
Weight
187.393 lbs | 85 kg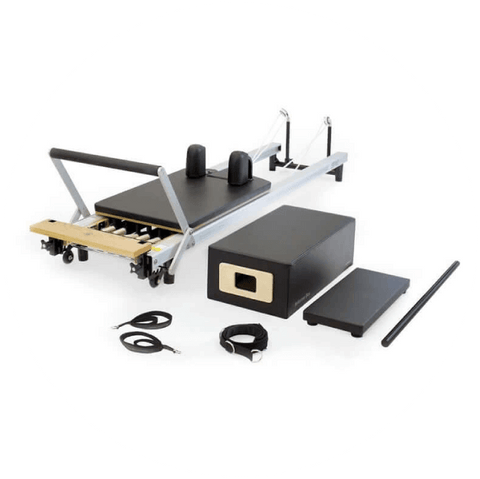 2
Best At Home Bundle
Merrithew™ Pilates At Home SPX ® Reformer Deluxe Bundle
PROS
CONS

Comes with box, footstraps, Platform Extender and Roll-up Pole
Built in wheels
Adjustable footbar, gearbar and headrest
Minimal assembly required


Fixed shoulder rests
Heavy to handle
Ideally suited for individuals who are 60-74 in (152-188cm)
The Merrithew™ Pilates At Home SPX® Reformer Deluxe Bundle is a high-quality, durable, and versatile piece of fitness equipment designed to bring the benefits of Pilates into your home. This deluxe bundle includes everything you need to get started with your Pilates practice, including the reformer machine, a variety of attachments, and a detailed instructional manual.
The reformer machine itself is the heart of the bundle. It is crafted with precision and built to withstand rigorous workouts. The adjustable resistance levels allow you to customize the intensity of your exercises, making it suitable for both beginners and advanced practitioners. The reformer machine also features a comfortable and padded carriage, ensuring a smooth and enjoyable workout experience.
The Merrithew™ Pilates At Home SPX® Reformer Deluxe Bundle also includes a range of attachments to enhance your workouts. These attachments, such as the jumpboard and the box, provide additional options for exercises and variations, allowing you to target different muscle groups and achieve greater fitness results. The bundle also comes with a set of adjustable ropes and pulleys, providing endless possibilities for resistance and assistance during your Pilates practice.
Dimensions
Length: 96.5 in | 245 cm
Width: 26 in | 66 cm
Height: 10 in | 25.4 cm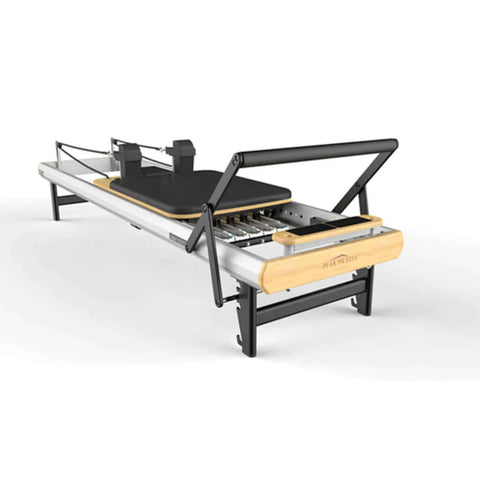 3
Best Value Home Reformer
Peak Pilates ® Casa Reformer Machine
PROS
CONS

Compact and lightweight
Adjustable (includes a locking footbar, a four-position gearbar, three-position headrest and rope adjusters)
Free Shipping


Not as robust as other options
Maximum user weight of 250 lbs
The Casa™ Reformer is designed for home use, combining both affordability and functionality. The Casa™ is "studio height". It features a secure locking footbar for added safety, an adjustable four-position gear bar for varied workouts, one-touch rope adjusters for easy setup, and a long/short box to introduce a range of exercise variations.
The reformer carries a two-year limited warranty on the structural components. Wear items such as upholstery, ropes, foot strap, and double loops are excluded from this coverage however they are covered by a one-year limited warranty.
Dimensions
Length: 97 in | 246 cm
Width: 25 in | 63.5 cm
Height: 16 in | 40.6 cm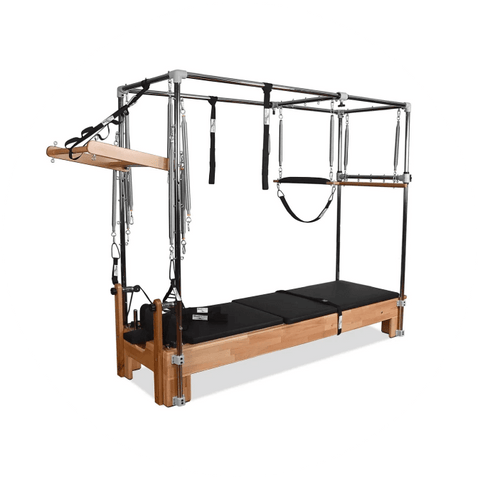 4
Best Combo Cadillac-Reformer
Private Pilates Premium Combo Cadillac Reformer Machine
PROS
CONS

Wide range of exercises
Highly adjustable (suitable for all skill sets and body types)
Studio-grade
Free Shipping
The Private Pilates Premium Combo Cadillac Reformer Machine is a versatile piece of equipment designed with a robust solid beech frame for long-lasting durability. Key features of the Combo-Cadillac include a patented 5-stage adjustable stopper system and plug-in shoulder blocks with four width settings. The machine's pulley system is reinforced with a twisted spring, ensuring the correct angle of motion. Furthermore, the expanded gear settings provide accurate spring resistance adjustments, catering to various workout intensities. This machine is aptly suited for both home and studio use, reflecting its adaptability and reliability.
Dimensions
Length: 93 in | 237 cm
Width: 31 in | 80 cm
Height: 85 in | 215 cm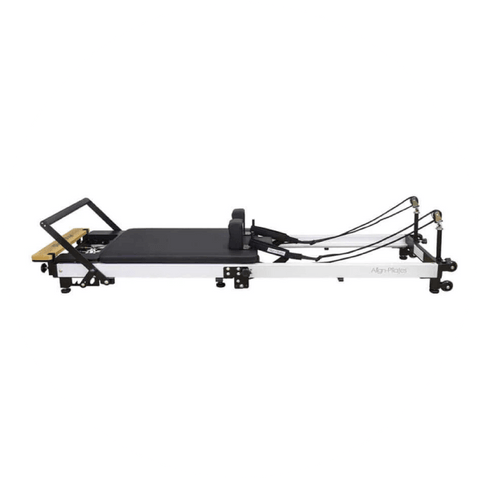 5
Best Foldable Home Reformer
Align Pilates F3 Folding Home Reformer Machine
PROS
CONS

Foldable
Easy to assemble
Adjustable headrest and resistance settings
Affordable


Not the best option for experts
Very low to the ground
The F3 by Align-Pilates is designed for convenient home use, enabling the benefits of a Pilates Reformer workout without demanding dedicated space. It's equipped with the same springs as Align's professional-grade reformers, ensuring a smooth progressive resistance that's adjustable to individual needs. One of the F3's standout features is its foldability; it can be quickly compacted into a self-contained unit, making storage and mobility a breeze with its wheel functionality. Although it's recommended for two people to handle its opening and closing, a single individual can manage it themselves. The lifting weight is similar to lifting a heavy suitcase.
Dimensions
Length: 95 in | 242 cm
Width: 27.6 in | 70 cm
Height: 9 in | 23 cm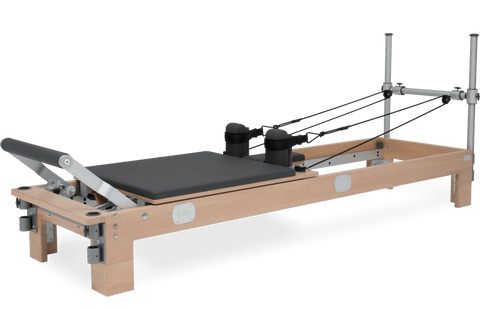 6
Best Advanced Studio Reformer
BASI Systems Pilates Reformer Machine
PROS
CONS

Great for everyone - highly adjustable
Very comfortable
Aircraft quality aluminum tracks for a smooth glide
High precision gear system
Can convert to reformer with tower or combo cadillac-reformer
Available in 8 colours


Higher price point
Assembly process is time consuming
The BASI Systems Reformer is smooth and effortless in movement with powerful adjustability. Its unique and innovative Enhanced Pulley System (EPS) provides fine-tuning control of the pulley angle and the expanded gear system allows precision in spring resistance settings. The BASI Systems Reformer has one of the largest largest carriage cushion and longest track in the industry. The reformer offers exceptional comfort and range of motion. It is suitable for both home and studio use.
Dimensions
Length: 100 in | 254 cm
Width: 28.4 in | 72 cm
Height: 34.3 in | 87 cm
Weight
197.3 lbs | 89.5 kg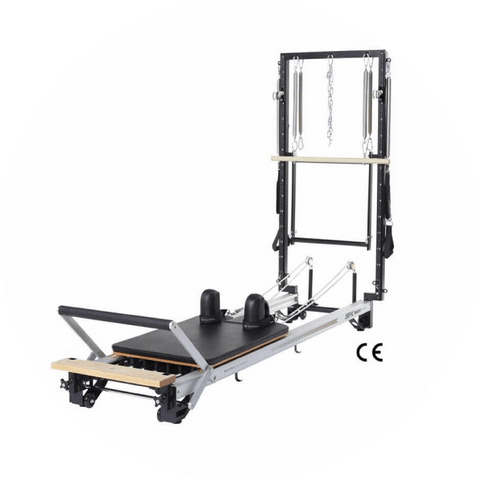 7
Best Aluminum Reformer with Tower
Merrithew SPX Max Plus
PROS
CONS

Built in wheels
Suitable for home and studios
Minimal assembly required

High price point (cheaper aluminum reformer with towers on the market e.g. Elina)
Accessories sold separately
The Merrithew™ SPX® Max Plus™ stands out as the ultimate Pilates Reformer within the Merrithew™ SPX series. It boasts a retractable rope system and travelling pulleys on its vertical frame, facilitating multidimensional movements mirroring real-life activities. Essentially, it combines the features of a Reformer and a Cadillac, optimizing functionality while conserving space.
Suitable for all fitness and athletic training levels, the SPX Max Plus Reformer holds a CE Mark as a Class I Medical Device in line with the European Medical Device Regulation (EU) 2017/745 (MDR), enabling its formal use in European medical facilities for patient health improvement.
Optional accessories can be purchased separately or bundled with the SPX Max Plus Reformer Bundle. The bundle also includes a Mat Converter, Reformer Box with footstrap, Padded Platform Extender and Maple Roll-Up Pole for only $635 more – a value of over $1,000.
There is also an option to add 6 inches of length to your reformer in the manufacturing process. A great solution for individuals who are tall!
Dimensions
Length: 97 in | 247 cm
Width: 26.5 in | 68 cm
Height: 68.5 in | 174 cm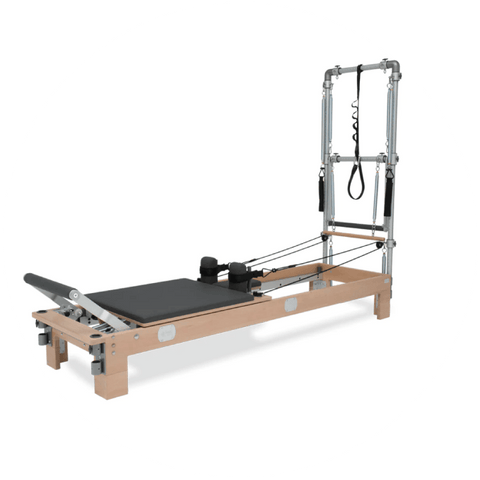 8
Best Advanced Wooden Reformer with Tower
BASI Reformer with Tower
PROS
CONS

Smooth and silent glide
Highly adjustable settings
Foldable tower allowing you to convert between regular reformer and reformer with tower.
Enhanced Pulley System


Expensive (cheaper wooden options available such as Elina)
Time consuming to assemble
The BASI Systems Reformer with Tower stands out for its adjustability in a compact design. The Enhanced Pulley System (EPS) gives fine-tuning control of the pulley angle and the expanded gear system allows precision in spring resistance settings. The attached Tower enhances the Reformer's functionality, boasting versatile spring settings for straps, push-through, and roll down bars. Highlighted features include an industry-leading carriage cushion size and long track, ensuring both comfort and an extended range of motion. This Reformer is suitable for both home and studio settings.
The Tower expands reformer and tower functionality with a myriad of spring setting options for straps, push-through and roll down bars. With the largest carriage cushion and longest track in the industry, it offers unprecedented comfort and range of motion. It comes with four ports to accommodate the revolutionary F2 System upgrade. The BASI Systems Reformer with Tower is an expandable system that seamlessly adapts to your needs.
This Pilate Reformer is suitable for home workouts as well as studio use.
Dimensions
Length: 100 in | 254 cm
Width: 28 in | 72 cm
Height: 76.6 in | 194.5 cm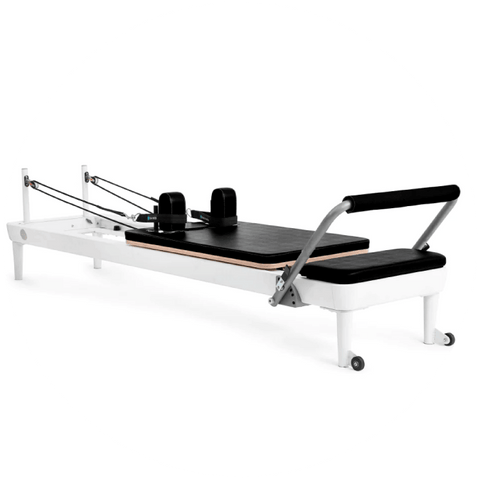 9
Best At-Home White Reformer
Elina Nubium
PROS
CONS

Silent gliding carriage
Suitable for home and studio use
Free Shipping
Includes box and jumpboard

The white color can get dirty
The Elina Pilates Nubium Reformer embodies a blend of contemporary design and outstanding functionality. Ideal for both home and professional use, its white aluminum structure not only adds aesthetic value but also promises sturdiness. Ensuring a smooth and ultra-quiet workout session, the reformer is equipped with eight special polyurethane wheels and precision bearings. Its high-quality upholstery is crafted to resist wear from intense, continuous use, and the unique "Quick release" system on the foot bar offers swift position changes. With adjustable padded shoulder pads and a versatile spring set, users are guaranteed a comfortable experience.
Dimensions
Length: 96 in | 244 cm
Width: 33.6 in | 85 cm
Height: 33.8 in | 86 cm
Weight
139.9 lbs | 63.5 kg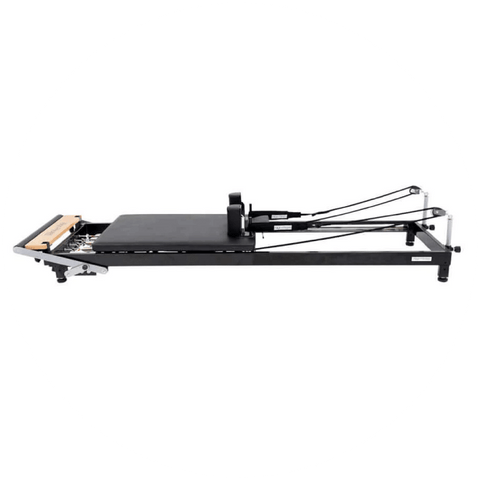 10
Best Under $1600
Align H1
PROS
CONS

Affordable
Compact design
Built in wheels

Less durable than other options
Additional shipping charges
Not suitable for studio use
The Align-Pilates H1 Home Pilates Reformer is designed to allow you to get all the benefits of a studio Pilates workout in the comfort of your own home. While it's designed for home use, it incorporates many characteristics found in Align's commercial reformers. It utilizes the same wire springs as Align's professional models, ensuring a progressive resistance. Users can easily adjust the H1 to fit specific workout needs. Thanks to the mirrored stainless-steel runners, the machine operates smoothly and quietly. For storage convenience, the H1 is mobile and can stand vertically, optimizing space efficiency.
It is possible to use the H1 for jumping exercises with the H-Series Jump Board and to raise the carriage bed from 23cm to the more popular 40cm height by adding leg extensions.
Dimensions
Length: 95 in | 242 cm
Width: 27.6 in | 70 cm
Height: 18.5 in | 47 cm
What Is a Pilates Reformer and How Does It Work?
A Pilates reformer is a piece of
equipment used in Pilates workouts that consists of a sliding carriage,
adjustable springs, straps, and pulleys. It is designed to help improve strength, flexibility, and balance through controlled movements and resistance
training. The sliding carriage allows for a wide range of exercises to be
performed, targeting different muscle groups and providing a full-body workout.
Home Pilates Reformers vs. Studio Reformers: What's the Difference?
The main differences between a home Pilates reformer and a studio reformer is size, quality, and price.
Studio reformers are larger and sturdier, with more resistance options and additional features. However, they are also more expensive and take up more space.
Home reformers are smaller and more affordable, but may not have as many resistance options or features.
What is The Best Pilates Reformers for Home Use
The best Pilates reformer for home use depends on your budget and specific needs. It's important to first understand what you prioritise. Is it high performance? It is affordability? Is it durability?
Once this is determined you can use our Top 10 list to find the reformer perfect for you. Some popular options include the Elina Elite Reformer and the Merrithew At Home SPX Reformer Bundle.
Where to Buy a Pilates Reformer Machine?
You can purchase a Pilates reformer
machine directly on our website. You will find a variety of options to choose from. Whether you're a beginner or an experienced practitioner, we have the perfect machine to help you achieve your fitness goals. Browse our full collection today and find the Pilates reformer of your dreams!
Pilates Reformer Prices: How Much Does a Home Pilates Reformer Cost?
The cost of a home Pilates reformer can vary greatly depending on the brand, features, and quality. On average, you can expect to pay anywhere from $2000 to $4,500 for a home Pilates reformer. It's important to do your research and choose a reformer that fits your budget and fitness goals.